There are many times that a roll off dumpster is the right solution for your project.
A roll off dumpster is a large, rectangular dumpster on wheels. That makes it easy for a dumpster company to bring it to your site, roll it off the truck, leave it for you to fill, and then roll it back on the truck when you're done and take away the dumpster and the trash.
At PCI Dumpster Rental, we have a variety of dumpster sizes for every type of job.
People often think of a roll off dumpster rental as being necessary for large jobs, like loads of construction waste, or homeowner projects like new shingles, that will create more rubbish than NYC curbside pickup will handle.
Those are good examples of instances when it's a good idea to rent a roll off dumpster. But there are even more times that getting a dumpster roll off from PCI Dumpster Rental will help your project run smoothly. We have dumpster sizes for every size of job.
Here are a few more examples.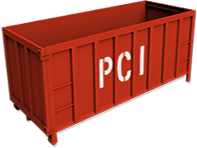 A homeowner doing a spring cleaning can rent a dumpster to easily dispose of the waste. That could be the small mini dumpster for yard waste or a bigger 10- to 30-yard dumpster that can handle a full purge before you move.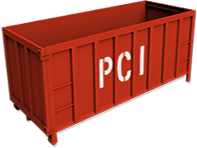 Landscaping projects that involve ripping out old decks, patios or fences will go more quickly and efficiently with a roll-off dumpster on site.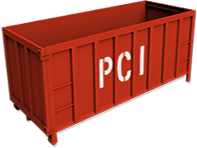 A cleanup after a natural disaster like a fire or a flood can create a lot of damaged goods that cannot be recycled, sold or even donated. Rent a roll off dumpster to ensure that sometimes dangerous material is disposed of quickly and efficiently.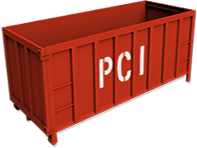 Construction companies and commercial enterprises regularly enjoy the convenience and service of roll off dumpster rentals. Instead of paying their tradespeople to drive around to waste disposal sites, they can simply fill the dumpster and carry on with their work.
And for homeowners or business owners, we can help with one dumpster or many, for one day or a week or more, and in sizes ranging from a 1/2 yard mini dumpster to a 30-yard dumpster and everything in between.
Our experienced and professional staff can also help with advice on the size of the dumpster appropriate for your job and can provide a quote on dumpster prices to meet your budget. Once you determine the size of the dumpster or dumpsters to suit your needs, our professional drivers will drop off the dumpster when you're ready to start work. When it's full and you're done, we will pick it up and dispose of the rubbish.
Don't worry about finding a truck and trailer to rent, asking a friend to help, or carrying the extra overhead of owning the equipment for your business.
When you want your project to move quickly and efficiently, and you're wondering "Where can I get roll off dumpster rental near me," you need to call PCI Dumpster Rental. We've been here since 1985, providing excellent customer service for 35-plus years.